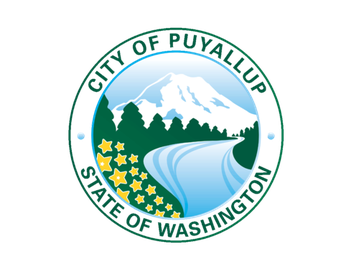 County: Pierce
State: Washington
Coordinates: 47°10′33″N  122°17′37″W
Elevation: 46 ft
Land area: 14.24 sq mi 
Population (2020): 42,973
Population Density: 2997/sq mi
Demographics from the 2010 Census
As of the census of 2010, there were 37,022 people, 14,950 households, and 9,528 families residing in the city. The population density was 2,657.7 inhabitants per square mile. There were 16,171 housing units at an average density of 1,160.9 per square mile. The racial makeup of the city was 84.4% White, 2.1% African American, 1.4% Native American, 3.8% Asian, 0.7% Pacific Islander, 2.1% from  other races, and 5.5% from two or more races. Hispanic or Latino of any race were 6.9% of the population
There were 14,950 households, of which 32.8% had children under age 18 living with them, 45.8% were married couples living together, 12.8% had a female householder with no husband present, 5.1% had a male householder with no wife present, and 36.3% were non-families. 28.5% of all households were made up of individuals, and 10.7% had someone living alone who was aged 65 years or older. The average household size was 2.43 persons and the average family size was 2.98 .
The median age in the city was 36.8 years. 23.6% of residents were under age 18; 10.2% were between ages 18 and 24; 27% were from 25 to 44; 26.8% were from 45 to 64; and 12.4% were 65 years of age or older. The gender makeup of the city was 48.0% male and 52.0% female.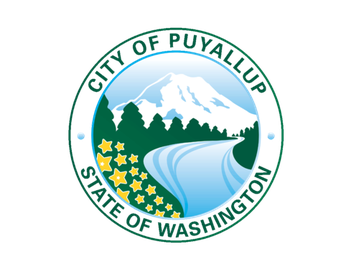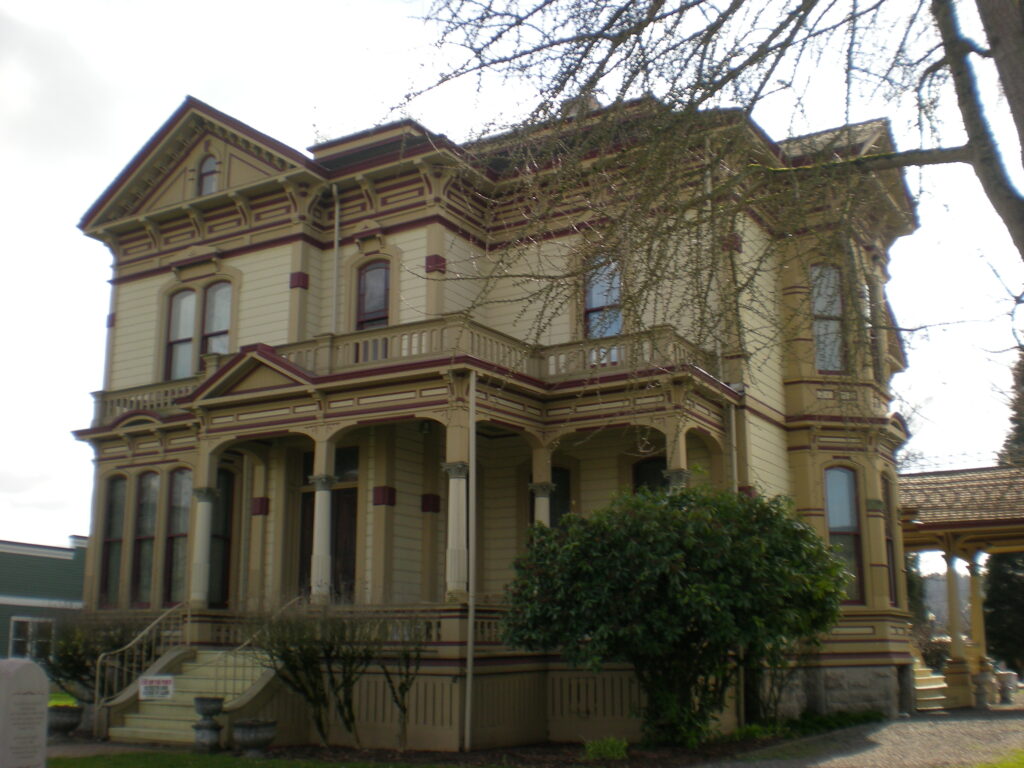 Puyallup River, Ezra Meeker's Mansion, Pioneer Park, Library, Senior Activity center, Public Stage, Washington State Fair, Historic Buildings, Antique District, Pierce County Foothills Trailhead, Riverwalk, Daffodil Festival Parade, Arts Downtown Outdoor Gallery, Farmers Market, Germain-Korham Center, Step-by-Step, Fish Hatchery, WHO/AARP Age Friendly City Designation, Bee City Designation
Puyallup experiences an  oceanic climate (Koppen classification: Csb; Trewartha classification: Do). Winters are cool and wet, with high temperatures averaging in the mid to upper 40s and lows near freezing. The surrounding hills (averaging 500 feet (150 m) above sea level) often experience the extremes of winter, with more frequent lows below freezing and greater snowfall. Snowfall is rare, and often only occurs on a few days a year, sometimes as early as November, and as late as April. Spring brings less rain and milder temperatures, with highs regularly in the mid 50s (12–14 °C), to around 60 (15 °C). Spring often records the first 70 °F (21 °C) temperature. Summers are warm and dry, with highs in the 70s most days. Many days can max out in the 80s, and occasionally the 90s. Readings above 100 °F (37.7 °C) are very rare; on July 29, 2009, during a prolonged period of hot weather, Puyallup recorded a temperature of 105 °F (40.5 °C), the warmest since records have been kept. Summer thunderstorms happen occasionally, but are often isolated and rarely (if ever) severe. Storms often roll off the Cascades and into the surrounding areas; they are usually a result of warm moist air from monsoons in the southwestern United States. Summer is warmest in July and August, and occasionally September. By October and the fall season, temperatures start to drop and precipitation increases.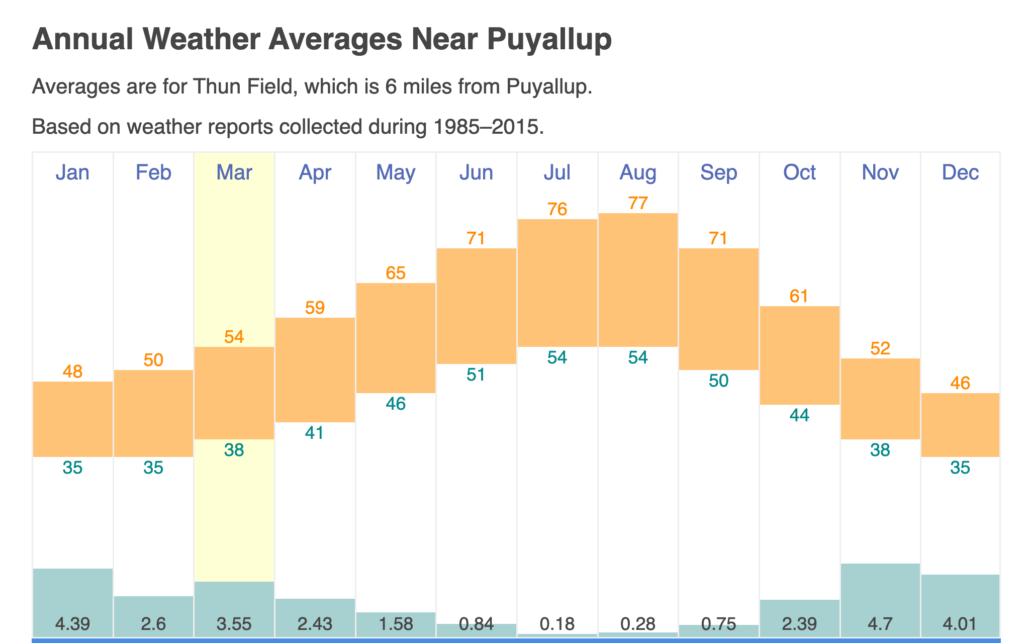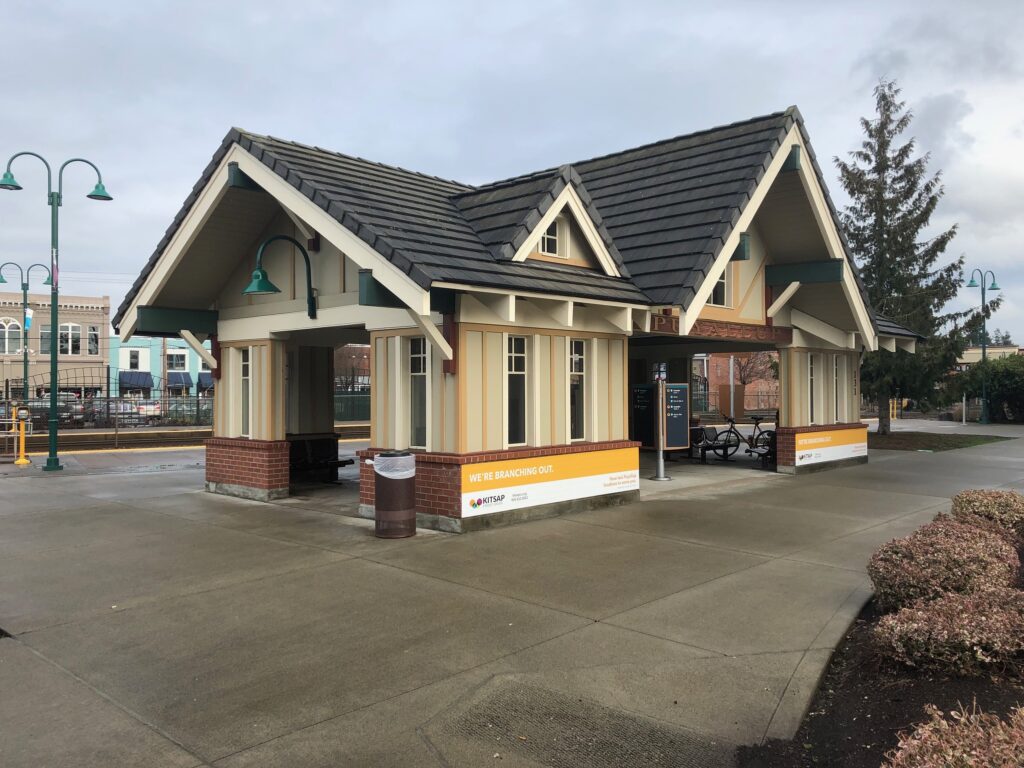 Cars and Buses: Puyallup is located at the intersection of State Route 167 and State Route 512, with freeway access to Lakewood and the Green River Valley. Interstate 5 runs through Tacoma, about 10 miles to the west, and continues to Seattle, about 35 miles north. The city is also served by Pierce Transit buses. 
Rail: There is an Amtrak station near the Tacoma Dome in downtown Tacoma. The same tracks are used by Sounder Commuter rail with conveniently located stations in both Puyallup and Sumner.  Overall the Sounder system has 12 stations extending from Lakewood south of Tacoma to Everett north of Seattle.
Air: SeaTac International (SEA) airport is about 25 miles north. Pierce County Airport, also known as Thun Field, is a county-owned, public-use general aviation airport located about 5 miles south of Puyallup.
The city is served by the Puyallup Public Library, which was established in 1913 and has been housed in its current building in Pioneer Park since 2002. It is not affiliated with either the Tacoma Public Library or the Pierce County Library System.  It's a beautiful library!
The Puyallup School District has 35 schools attended by more than 22,250 students. The district is the ninth largest in Washington state, extending to neighboring South Hill, parts of Tacoma, and the Edgewood area.
Shaw Road Elementary School serves grades K-6, has a Great Schools rating of 7/10, and is located 1 mile from the site. Kalles Junior High School serves grades 7-9, has a Great Schools rating of 5/10, and is located 2.3 miles from the site. Puyallup High School serves grades 10-12, has a Great Schools rating of 7/10, and is located 3 miles from the site.
Puyallup is also home to Pierce College Puyallup, a community college that opened in 1990. It is one of the two main campuses belonging to the college, the other being Pierce College Fort Steilacoom in Lakewood.
Washington State University (WSU) operates the Puyallup Research and Extension Center on the west edge of town. The 160-acre campus consists of laboratories and offices, state-of-the-art greenhouses, a Master Gardener demonstration garden, the Washington Stormwater Center and associated Low Impact Development (LID) research installations, six acres of certified organic farmland, and several acres of agricultural and natural resource plots. There are an additional 112 acres of research plots.  Click on the icon to the right to view a pdf of their recently published 2030 vision.
Nearby Tacoma has several institutions of higher education, including the Tacoma branch of the University of Washington, Pacific Lutheran University, and the University of Puget Sound.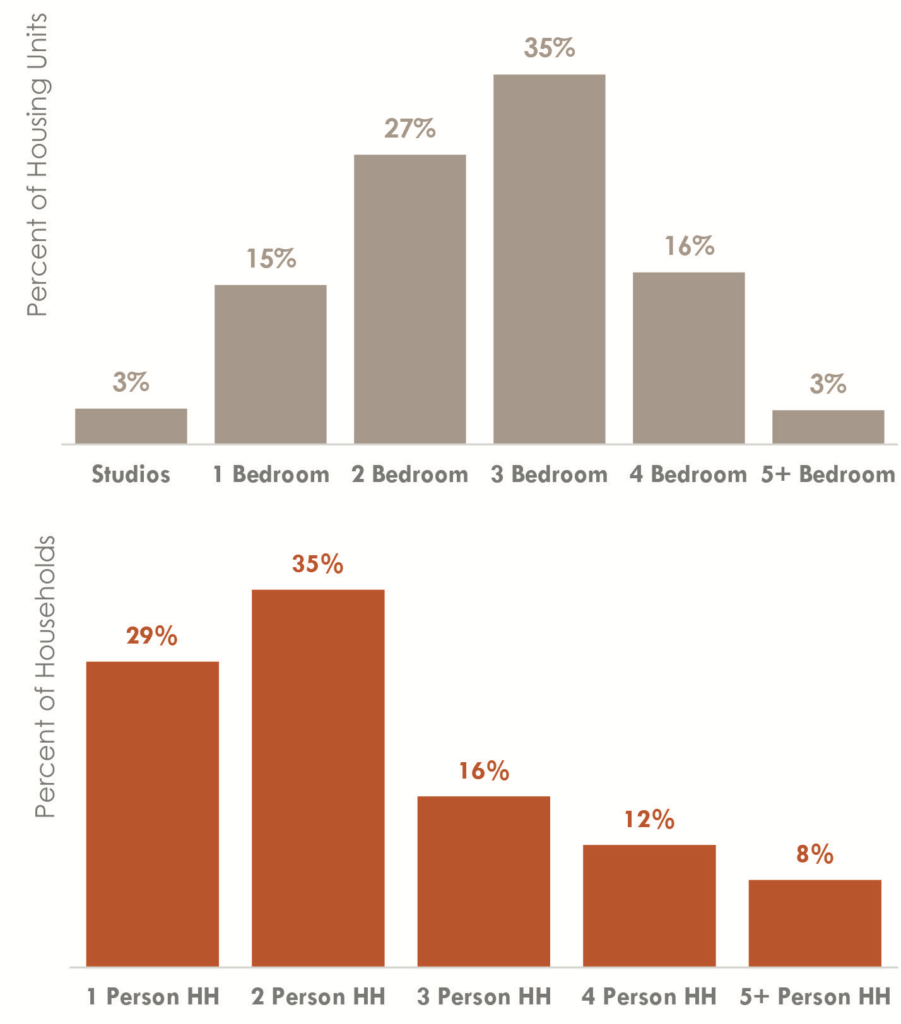 The Housing Action Plan (HAP) is the City of Puyallup's plan to support affordable housing options for all community members. Affordable housing has implications for life outcomes by supporting educational opportunities, allowing older residents to live independently in the community, helping workers to live in the community, and helping families to avoid making tradeoffs between housing and other necessities like food, healthcare, or transportation.
The plan was completed and presented to the community in June, 2021.  The plan identifies 15 strategies for improving housing. Several of these strategies overlap with, and are supported by, cohousing.
The graphic to the left is one of the findings from the HAP showing the discrepancy that currently exists between the size of housing units and the size of households in Puyallup.