Puyallup Library at Pioneer Park
Cohousing Communities Help Prevent Social Isolation
From PBS in 2017: Groups in Denmark and the U.S. are choosing to live in intentionally intergenerational communities, which emerged to strengthen social ties between aging seniors and their younger counterparts who are balancing work and family. People living in them say the model fosters an interdependent environment and helps everyone feel more comfortable with the process of getting older. NewsHour Weekend's Saskia de Melker reports.
How Cohousing Can Make Us Happier (and live longer) From a TED talk by Grace Kim in 2017: Loneliness doesn't always stem from being alone. For architect Grace Kim, loneliness is a function of how socially connected we feel to the people around us — and it's often the result of the homes we live in. She shares an age-old antidote to isolation: cohousing, a way of living where people choose to share space with their neighbors, get to know them, and look after them. Rethink your home and how you live in it with this eye-opening talk.
Best of Both Worlds (trailer)
Cohousing through first-hand observation and interviews and with residents.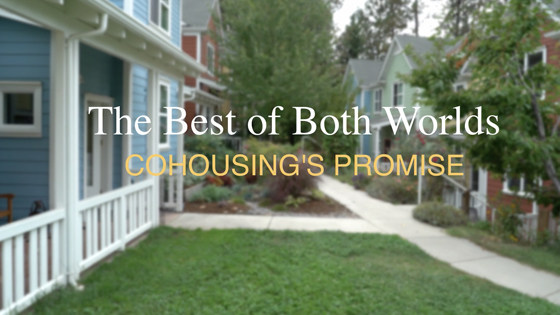 Best of Both Worlds (full video)
To watch the complete video, contact Mike for password.